Overview of Sessions and Rooms
Safety measures
Persons with full vaccination are exempt from testing and self-isolation. Full vaccination means that one has been vaccinated with either Vaccine Janssen, Comirnaty, Spikevax, or Vaxzevria and at least 14 days have passed after :
the second dose under the two-dose vaccination schedule;
one dose under the single-dose vaccination schedule;
at least one dose administered to the person who has recovered from the COVID-19 disease (coronavirus infection) confirmed by a positive SARS-CoV-2 PCR test result.
Face masks may be needed in indoor spaces. You can also check the information here about the safety requirements.
Before arriving to Lithuania, not earlier than 48 hours before the travel, you must fill in the questionnaire on the NPHC website. You may be asked to present a confirmation (received by e-mail) of the completed e-questionnaire (QR code) together with your vaccination certificate upon arrival or before boarding the plane.
The questionnaire might be misleading in some questions such as asking for isolation address and if you have a negative Covid-19 test. Do not worry, if you are fully vaccinated or have recovered from Covid-19 in the past 180 days, you do not need a test or to self-isolate upon arrival. In the questionnaire, tick this box:

Onsite participation
There will be rooms for each section where one can watch the speakers on a big screen together with other onsite participants and deliver one´s own paper in a way that both zoom listeners and the live audience can hear and see them. For the sake of the stability of connection it is best if you use the stationary pc in the room when making your own presentation, but for questions and chat (when you are part of the audience) it can be good to have your own gadget with headphones that could connect to the wifi in the room.
Registration
If you intend to participate in the conference on campus please register.
Where to find us?
Address: Universiteto g. 5, Vilnius
The map below shows where to enter Aula Parva in the Central building.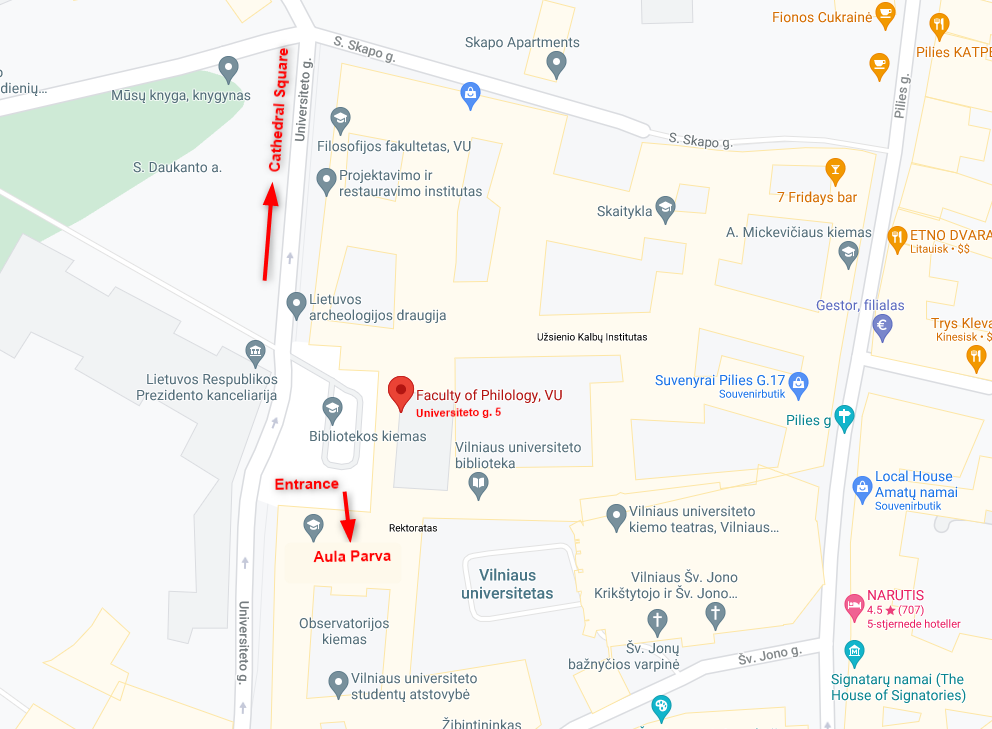 The map below shows where to enter the Faculty of Philology for the paper sessions.